Cologide Sterile Collagen Sheets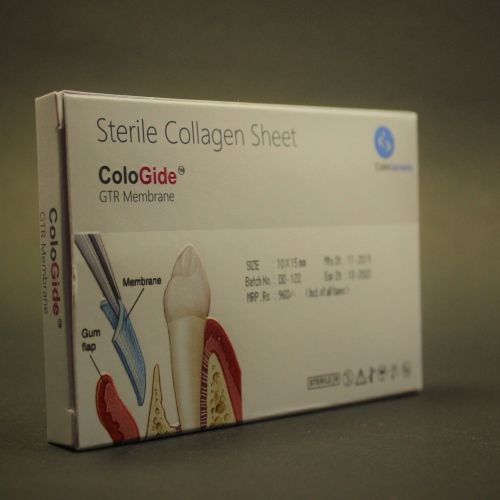 Business Type
Manufacturer, Exporter, Supplier, Retailer, Wholesaler
Type
Collagen Sheet
Application
Clinic, Clinical, Hospital
Feature
Anti Bacterial, Anticeptic, Disposable, Durable
Click to view more
Preferred Buyer From
| | |
| --- | --- |
| Location | Anywhere in India |
Product Details
Side Effects
There have been no reports or observations of any side effects or adverse reactions from the use of implant.
Storage
It should be stored in original packaging in a cool dry place at room temperature
Caution
It is restricted to use by licensed oral surgeons, dentists with special training in use
Download

View
The ColoGide is derived from bovine source. It is a resorbable, non-friable barrier membrane obtained from highly purified type-I collagen derived from specially controlled and certified animals and is highly purified to avoid any antignicity.

Characteristics
The ColoGide is produced to provide an optimized degree of flexibility and rigidity combined with the most predictable resorptive process.

The Product comprises two distinct surface textures on either side of the membrane-a dense surface and a roughened porous surface. The dense top layer is in contact with soft tissue to prevent epithelial down growth and the porous roughened surface is in contact with bone and favors bone ingrowth.

The ColoGide has a definite geometry in vivo stability and mechanical sterngth for use as barrier material. It has longest in vivo stability or resorption time 20-24 weeks, this accounts for the sustained function during the bone repair process.
The colo Gide comes prepacked and sterile and is intended single use only.

Indications :
Periodontology-Guided tissue regeneratation procedure for infrabony defects.
Oral implantology-guided bone regeneration procedures for sinus graft procedures, ridge augmentation and peri implant defects.
Augmentation procedures-horizontal and vertical ridge augmentation or augmentation of the maxillary sinus.
Surgical root resection, cystectomy and other bone lesion.

Directions for Use :
In all cases standard established sterile surgical procedures must be observed. A full thickness mucoperiosteal flap must be raised to expose the underlying bone defect. The flap should a minimum of 5mm outside the defect on all sides. The defect must be debrided thoroughly of all granulation tissue. After adequate site preparation the bone defect can be filled with a graft material. The sizes of the membrane should be determined using a template material adapting the membrane and cutting it with scissors to ideally extend 2-3 mm beyond the edge of the defect (s). the membrane once wet with blood tends to adapt extremely well to the bone walls. The roughened porous texture should face the bone and the dense smooth surface face the soft tissue. The membrane should be properly immobilized as micro movement can impair the bone ingrowth. Immobilization can be done using suturing or a fixation system. The wound should be primarily closed over without any lesion in the flap.

Contra-Indications : The ColoGide TM should not be used in all contra indications customary to the use of bone grafts that can impair bone or wound healing including acute or chronic bone infection, uncontrolled diabetes, chronic high dose steroid therapy, vacular impairment at the implant site, metabolic bone disease and alcohol are smoking abuse.

Precautions :
Do not use if blister is open or damaged.
Do not use the product after expiry date printed on package lable.
The package is for single use only, it cannot be resterilized.

Product Sizes :
15mm x 20mm
20mm x 32mm
30mm x 42mm
10mm x 15mm
Looking for "
Cologide Sterile Collagen Sheets

" ?
Pack